How Local Directories Can Help Pest Control Companies Get Found Online
In order to succeed, pest control companies need people in their local area to discover their business. And these days this usually occurs online.
Having an optimized website is a great start, but it's not the only way people will find you. Many potential customers look at local business listings like Google My Business, Bing Places, Yelp, and the Yellow Pages to find services near them.
Here are four reasons why pest control companies should list their business on online directories.
How Pest Control Companies Grow Their Online Presence
The more directories you're Pest Control company is included in the more places there are that people will find you. You're essentially diversifying your online presence.
Depending only on your website to collect leads is really putting all your eggs in one basket. Even a highly optimized website isn't going to appear at the top of every search. That means that there are likely plenty of pest control-related searches you're not showing up for.
When your business is listed in multiple places you increase the odds that customers will discover you, which in turn generates more leads and sales.
Get Listed on Sites with a High Domain Authority
Domain authority is a score given to sites that predicts how likely they are to show up in search results.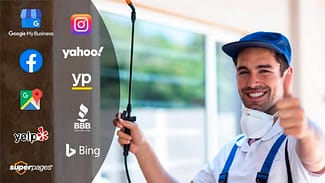 Directory sites have extremely high DA scores. Facebook, Apple Maps, and Google My Busines all have perfect scores of 100. Other directories like Bing Places, Yelp, and Yellow pages are all over 90.
Even if you work really hard on your site you'll likely never achieve scores like this, so it's worth listing your business on these pages to take advantage of their SEO strength. That way, even if your site doesn't rank for certain pest control searches there's a good chance your directory listing will.
Generate Reviews for Your Pest Control Company
As a pest control company, people need to trust you in order to invite you into their homes. This is why online reviews are so important.
In fact, according to a recent study, 93% of people's purchasing decisions are influenced by online reviews. Simply put, the more positive reviews you have the more customers you'll get.
Most local directories allow users to leave reviews for businesses. So, by listing your pest control company there you should increase the number of online reviews you receive.
Improve Your Ranking in Local Searches
For you to show up in local searches, Google and other search engines need to establish your location. They do this by looking at the address you list on your website and various online directories.
The more places your address is listed online the better it is for local search, which is why listing your business on directories is so beneficial.
Just make sure you address and other information is exactly the same on every site, otherwise it could hurt your search results.
FYNDYOU Will Get You Listed on Over 50 Online Directories & More

As part of our FYNDYOU Program, we'll get your business listed on all the important online directories. Our team will create and optimize each listing to improve your online presence and get you found in more local searches.
If you want to learn more, click here and schedule a free demo.