Chuck's Boots Was Looking for an Experienced E-Commerce Developer to Build Their First E-Commerce Site and Integrate it With their POS System
Chuck's mission is to provide a one-stop shopping experience with an exceptional selection of footwear, product knowledge, and customer service.
Historically, Chuck's Boots was a specialty retailer operating two superstores in the St. Louis Metropolitan area and one of the largest boots stores in the country. Their focus has been on meeting consumers' unique and everyday needs by supplying a wide range of work, western, motorcycle, uniform, and casual footwear.
ChucksBoots.com E-commerce site was added in Fall 2020 to bring our vast selection of in-stock merchandise, product knowledge, and customer service direct to consumers online.
Chuck's wanted best in class and selected PWA VUE technology to augment the shopping experience offered by Magento.
The FYNDYOU team of designers, copywriters, and developers captured Chuck's brand and translated it to a cutting-edge E-Commerce site
By including Google Analytics, we were able to track the site's growth and optimize for an enhanced user experience.
Category View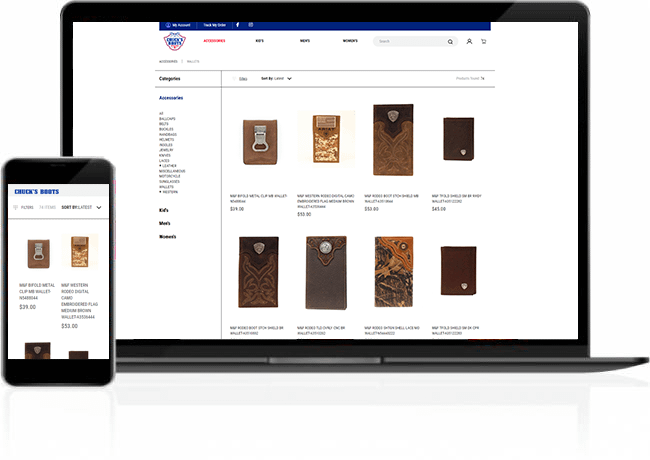 Product View