Google AdWords Makes It Easier To FYNDYOU!
Often times when we are looking for the magic marketing bullet we really don't need to look any further than our own practices. How do you look for a business? How do you search for products you want to purchase? How do you find names of companies you need? For the vast majority of us across the globe, the answer is simple – GOOGLE it. Where the marketing bullet misses the mark is when companies don't use Google AdWords as part of their online marketing approach.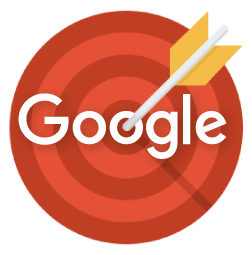 Google AdWords makes it easier for a customer to find YOU. We will go as far as to say for small businesses, Google AdWords allows you to stay competitive with national brands and larger companies. The goal is to land on the first page of Google and many large companies have full-time SEO experts diving into content frequently through the day to keep their page one placement. But with Google AdWords you can compete with these large organizations despite your size or expertise.
Equally as important to landing in top placement on Google, AdWords allows you to be specific on WHO you target. For example, a locally based podiatrist certainly doesn't need to waste marketing dollars on reaching patients on the west coast. If you're a local business, FYNDYOU™ can geo-target your ad so that your target market sees your message.
Let's revisit my first statement in this blog: We really don't need to look any further than our own practices. When using Google to find a local business, how many times do you look at Google Places to get a better understanding of its location? Again, a vast majority of internet searches include people using Google Places (which can be effective in conjunction with AdWords) to show a map of your business in addition to your ad.
We all know the sales and marketing mantra, "Location! Location! Location!" and after we establish that on Google, the next most important sales concept is "call to action." Google AdWords also allows you to show your contact information – phone numbers, addresses, app downloads, site landing page links and reviews. These call to action links allow your consumer to connect with one-touch on their smart phones.
Google AdWords is a measurable platform to reach your local, regional and even national prospects through targeted online marketing. And if you're still questioning whether it works – the customized analytics will help you. Google AdWords provides us with measurable data for each campaign that allows you to track your ROI, website traffic, brand awareness and sales and conversions.
Whether your business has 1 or 1,000 locations, FYNDYOU™ is your one answer, at one affordable price for your business to quickly be found locally in Google, Yahoo, Bing and over 50 other places all over the web.
Our team of experts will set up and individualize FYNDYOU for each of your locations, driving more local traffic, increasing your brand awareness by reaching more potential customers. With FYNDYOU, your business will be off and running in no time.
For your free demo call (502) 289-6115 today!