Alexa, How Do I Optimize My Website for Voice Search?
The way people use the internet is constantly changing. In the late nineties search engines revolutionized how people found information. Then smartphones and tablets arrived and businesses had to start optimizing their websites for mobile search.
Now voice search technology is gaining momentum and companies need to adjust accordingly.
According to Google, 27% of internet users are currently using voice search, and that number is expected to continue to grow. This makes sense as 26.2 % of the US population now own smart speaker devices like Alexa and Google Home.
Businesses that act now can start benefiting from those searches and gain an advantage on their competitors. So, how do you optimize your site voice search? Here are a few tips.
Brainstorm Questions People Are Asking About Your Keywords
When people use voice search, they typically ask questions. So, if you want to rank highly in these searches you need to figure out what questions people are asking and then provide the answer to them.
To start, identify what keywords you want to rank for. Try targeting long tail keywords (longer keywords that are made up of multiple words) as these are usually easier to rank for and are more specific.
Next, think about what questions your customers might have about these terms and try to provide answers in your content. Creating a frequently asked questions (FAQ) page is also a great way to address these questions.
Keep Your Answers Short and Concise
Voice search results are pulled from websites just like regular searches. Google searches the web and finds a snippet of content that answers the user's question.
A recent study shows that the average voice search result is 29 words. So, whether you're answering a question in an article, a FAQ page, or somewhere else on your site, try to keep your snippet around that length.
This doesn't mean you have to keep your entire answer to 29 words, just make sure you have a paragraph that's roughly that length that's able to sum up the answer to the question.
Improve Your Website Speed
It's been proven that voice search prioritizes websites that load faster. Voice search results typically load 52% faster than regular searches, so if you want to rank for them your site needs to be able to keep up.
Here are a few tips to help you improve the speed of your website:
Upgrade your hosting plan
Reduce or eliminate your HTTP requests
Compress your images
If you use WordPress reduce your plugins
Utilize page caching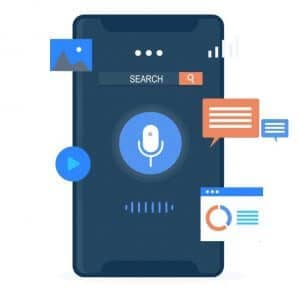 Optimize for Local Search
Like most searches these days, many voices searches are location based. People are looking for businesses and services that are near them, so you need to make sure you're utilizing local SEO.
To start, claim or update your Google My Business Page with your current contact information. Next, list your site in local directories such as Yelp, Facebook, and the Yellow Pages and ensure your contact information is exactly the same on each site (including your own).
Finally, target local keywords on your website and write blogs and articles around those keywords to further improve your results.
FYNDYOU Can Help You with Local Search
FYNDYOU offers voice search optimization as part of our Program Bundle. Call (502) 289-6115 or contact us today to speak to one of our team members and receive a free demo.