4 Ways Home Builders & Home Remodelers Can be Found Online
The way people find businesses is changing, and that goes for home builders as well. Internet users depend on online searches and directories to discover services near them. If you're not showing up in these searches customers won't be able to find you.
Here are some important considerations for home builders when it comes to digital marketing, along with four tips to help you get found online.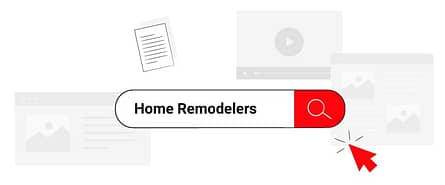 Local Home Builders & Remodelers Fight to Be Found Online
If you're a general contractor, sub-contractor, or a re-modeler, and want to increase business, people need to be able to find you online. For home builders, your main focus is likely going to be local projects. Because of this, the marketing strategy for contractors should have one main goal – to conquer local opportunities.
Millions of People are Looking Online for Home Builders and Remodelers Each Month
According to a report by Blue Corona, there are more than 4.2 million online searches for home builders and design-build firms and 660,000 online searches for remodelers each month. With so many people searching for the kinds of services you offer, maximizing your local SEO efforts is crucial to winning over prospective clients.
How to Get Your Business Found Online Locally
So, now that you know just how important local search is, how do you start taking advantage of it?
Here are four tips:
1. List Your Business in Online Directories
The concept of Yellow Pages has come to the internet. Directory sites like Yelp and Angie's list help people find services that are offered in their area. Google is also an essential site to be listed on.
Your first step should be to claim your business on "Google My Business" and add your hours, services offered, and photos. Next, begin adding your business to as many relevant directories as possible.
2. Create an Optimized Website
Build a website with high-quality content and industry-relevant keywords. Optimize your website's homepage and service pages with proper title tags and meta descriptions.
It's also important to make sure your site is mobile friendly. 80% of internet users used a mobile phone to search the internet in 2019, and that number will continue to grow.
3. Encourage Customers to Leave You Reviews on Google
All online reviews are important, but Google reviews are the most valuable as they have a big impact on your local SEO. So, start asking your customers to leave you reviews on your Google My Business page.
A high number of positive reviews will help search engines to pick you out of the crowd and place you at the top of results. They also increase your brand reputation and may help prospective clients choose you over your competitors.
4. Start a Google Ads Campaign
Advertising is the quickest way to get your business found online, although not everyone has the budget for it. Advertising with Google will put your business at the top of search results when people search for businesses like yours in their area.
About FYNDYOU
Finding the time to effectively build out this local strategy is difficult. That's where FYNDYOU comes in. The FYNDYOU digital marketing for home builder program bundle includes everything you need to get your business found online locally, all for one affordable price.
Click here to learn more about our digital marketing for home remodelers and find out how the FYNDYOU program has helped home builders like you generate more leads and get found online.