4 Reasons Why Live Streaming Should Be a Part of Your Digital Marketing Strategy
For a number of years now video has been touted by marketers as the most valuable piece of content. And while pre-recorded videos are still important, live streaming is taking over as the best way to generate views and engagement.
Live video is similar to your usual video content except, as the name suggests, it's live. While this may prevent you from adding fancy cuts and effects it does allow you to interact with your viewers in real-time.
Thinking about making live streaming part of your marketing strategy? Here are four reasons why that's a great idea.
It's Growing in Popularity
Live video streaming is a relatively new phenomenon, but it's catching on fast. In fact, the industry is expected to be worth over $70 billion by 2021.
As you might expect, YouTube Live is the largest live streaming website, but a number of other platforms have gotten involved as well. This includes Facebook Live, Instagram Live, Periscope/Twitter, Twitch, and LinkedIn Live.
All of these platforms are increasing their views and there's no sign of it slowing down.
People Watch Live Video Longer
If you're looking to increase the amount of time people spending viewing your videos you may want to start doing live streaming. Studies show that people spend 3x longer watching live video than they do watching pre-recorded video.
This may be why video streams also generate more shares, comments, and engagement as well. Whatever way you want to look at it, live video simply outperforms pre-recorded video.
It's Great for Product Launches
One of the best ways to sell a product is to show it being used. If people understand how it works and how it can benefit them they're much more likely to buy it.
Instead of using a pre-recorded video to achieve this consider live video instead. A live streaming event is great for generating buzz and can give your sales a nice boost out of the gate.
It also allows viewers to ask questions during the demonstration and participate in the video.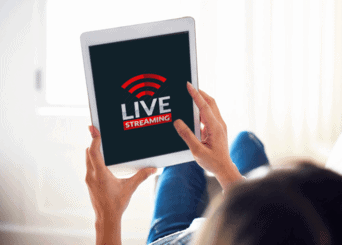 They're an Event
There's no urgency with pre-recorded video. If people don't get around to watching it today it will always be there for them tomorrow.
But a live stream is a one-time event. This taps into FOMO (fear of missing out) which encourages more people to take action today, rather than putting off watching your video for another time.
If you promote it right and build it up as a must-see event you'll generate far more excitement from a live stream than you would from a pre-recorded video.
Starting Live Streaming with FYNDYOU
Want to start incorporating live streaming into your digital marketing strategy? Add social media marketing to your FYNDYOU bundle to take advantage of this new medium. Call (502) 289-6115 or contact us today to speak to one of our team members and receive a free demo.